Sale!
Woocommerce PagoEfectivo
$90.00
Woocommerce Pago Efectivo es una pasarela de Pago que genera un código CIP con un tiempo de vida predeterminado para luego ser pagado por el cliente mediante su banca por Internet o mediante un cajero en el banco.
Compatible con:
Woocommerce 3.5.x
Woocommerce 3.6.x
Do you have a questions?
(English or Spanish)

Send us a whatsapp!
Availability: In Stock
Description
Note: This plugin is only for Peru, for that reason the documentation is in Spanish.
Cómo funciona PagoEfectivo?
Este servicio te genera un código CIP por cada compra, el cual debe ser pagado por el comprador ya sea online u offline, una vez hecho el pago, el comercio recibe un aviso y el pedido es procesado.
Estados del código CIP
Generado.
Pagado.
Vencido.
Extorno.
Antes de comprar el plugin debes:
Haber contactado con la empresa PagoEfectivo para que te den los accesos adecuados y te envíen las librerías.
Tener instalado Woocommerce
Debes saber que:
El costo del plugin incluye soporte tanto en test como en producción.
Si hay cambios en las modalidades de PagoEfectivo el plugin se actualizará y no tendrás que pagar nada por la actualización.
Screenshots
Este es el panel administrativo del plugin: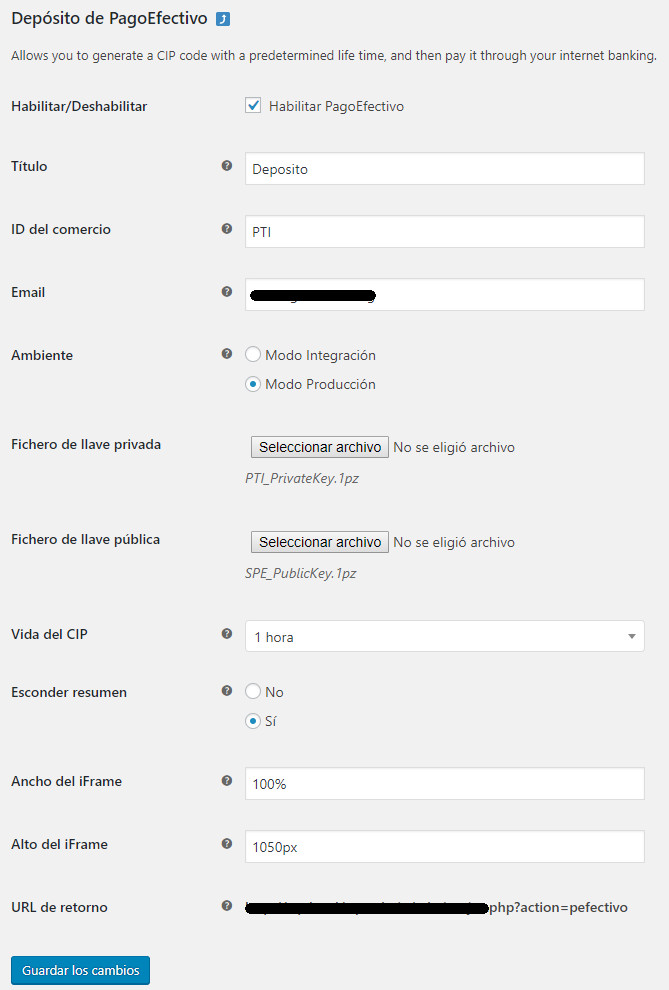 Y este es la vista frontal del plugin: