Note: This plugin is only for Peru, for that reason the documentation is in Spanish.
Integrar la pasarela PagoEfectivo en tu Woocommerce es muy fácil, una vez adquirido el plugin sigue estos pasos y podrás tenerlo funcionando tan pronto como creías.
Recuerda que, puedes generar un ticket de soporte y la respuesta será en menos de 72 horas.
Requisitos
Debes haber contactado con la empresa PagoEfectivo y haber firmado contrato con ellos
Debes tener  las librerías y el demo que la empresa de PagoEfectivo proporciona.
Debes tener la APIKEY, CLAVE y las llaves publica y privada que la empresa PagoEfectivo proporciona.
Configurar el demo
Si deseas configurar el demo que te envía PagoEfectivo, antes de subirlo por FTP a tu server sigue los sgtes pasos:
Coloca las llaves publica y privada en la carpeta

/

lib_pagoefectivo

/

key

/

 .
Edita el script

lib_pagoefectivo

/

code

/

configpe

.

php

donde debes colocar tu APIKEY, CLAVE y los nombres de tus llaves pública y privada. Recuerda que el servidor test donde debes apuntar es

http

:

//pre.2b.pagoefectivo.pe/

 .
Eso es todo, ahora súbelo a la raíz de tu sitio web.
Navegando por el demo
Entramos a la carpeta demo y ejecutamos "GenerarCip.php" vía web.
Le damos click en "pagar" y vemos.
Si en caso sale un mensaje de error, entonces debemos reportar a PagoEfectivo que su demo no esta funcionando, y seguro se trata de accesos, ellos lo resuelven en unos minutos y volvemos a probar.
Si en caso sale una ventana con un CIP generado:
Eso quiere decir que tus permisos están correctos y que ha llegado la hora de configurar el plugin.
Instalar el Plugins
Debemos adquirir el plugin de la web oficial, una vez que tengamos el ZIP, debemos subirlo al WordPress ingresando a la sección de plugins y le damos en agregar nuevo.
Luego le damos a Cargar Plugin, esta opción se ubica en la cabecera.
Finalmente se abrirá el panel de instalación de plugin desde PC, es ahí donde, al hacer click en Seleccionar Archivo, debes ubicar el ZIP del plugin de PagoEfectivo que está en tu PC, y finalmente una vez instalado, debes activarlo.
Listo! ya tienes tu plugin activado!
Configurar el Plugin
Nos ubicamos en Woocommerce > Ajustes > Pagos > Pasarela PagoEfectivo .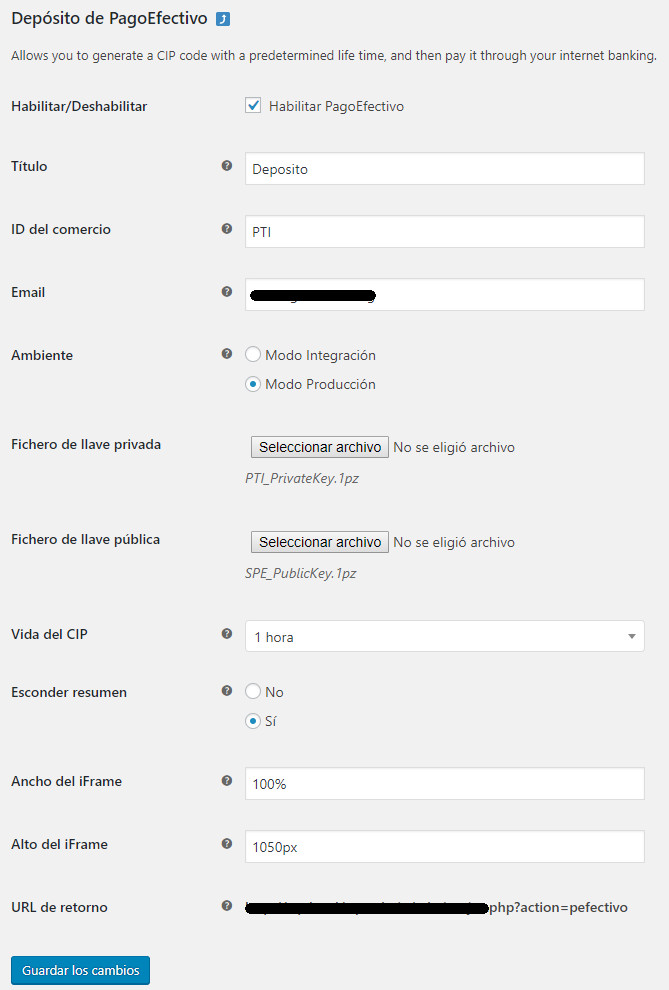 Muchos de los campos ya vienen llenos por defecto pero otros debes llenarlo de acuerdo a la información que PagoEfectivo te brinda.
Vista en la página de Checkout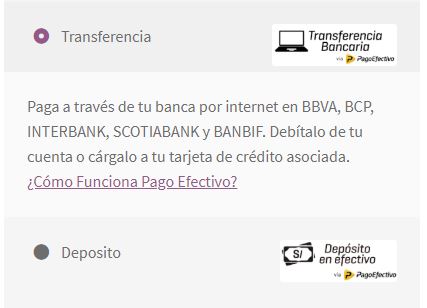 Recuerda que:
Modo integración es lo primero que debes probar, luego los de PagoEfectivo te enviarán las credenciales de producción.
El campo email es donde el plugin te avisará sobre los cambios de estado del CIP
Tiempo de vida del CIP debe estar coordinado con el tiempo que tu woocommerce le da a los pedidos pendientes (ver nota1)
El archivo de notificación o url de notificación es la dirección web donde PagoEfectivo te avisará sobre los estados del CIP
Nota1
Cuando se genera un CIP, este pedido aun no ha sido pagado así que se le asigna en "pendiente", sin embargo este estado para Woocommerce tiene un tiempo límite, por defecto es de 60 minutos y luego el pedido es cancelado.
Es importante que este tiempo de "pendiente" sea el mismo que el tiempo de vida del CIP. Para cambiar este tiempo debemos ir a Woocommerce > Ajustes > Producto >Inventario > Mantener en inventario  (minutos)