Note: This plugin is only for LATAM, for that reason the documentation is in Spanish.
Esta es la documentación oficial del Culqi Integración Suscripciones. Esta pasarela de pago te permite crear pagos recurrentes usando la API de Culqi, acepta VISA, MASTERCARD, DINNERS, AMERICAN EXPRESS, entre otros.
Recuerda: Puedes enviar un email en inglés o español a support@letsgodev.com y la respuesta llegará en menos de 72 hours
Indice
Requerimientos
Instalar/Activar el Plugin
Sincronizar Servicios
Crear/borrar Planes
Productos Recurrentes
Pasarela de Pago para Woocommerce
Problemas comunes desde el servicio de Culqi
Requerimientos
Instalar/Activar Plugin
Vamos a : Plugins > Agregar nuevo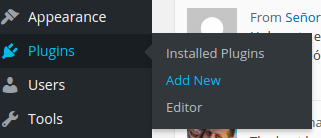 Subir Plugin

Buscar el plugin en tu PC

Luego, click en "activar" y podrás ver el plugin en la lista de activados

Activar el plugin con la licencia
Ir a : https://www.letsgodev.com/documentation/how-to-activate-deactivate-my-license-code/
Obtener la licencia
Ir a : https://www.letsgodev.com/documentation/where-do-i-find-my-license-code/
Administrar Licencia
Ir a : https://www.letsgodev.com/manager-license-from-your-site/    
Sincronizar Servicios
Si tenemos información en Culqi que queremos traer a tu website, necesitas sincronizar los planes, clientes y suscriptores. Para ellos iremos a sección de configuración de este plugin y presionamos cada botón. Si no tenes nada en Culqi y recién vas a empezar con esta pasarela de pago, no necesitas presionar nada, déjalo como está.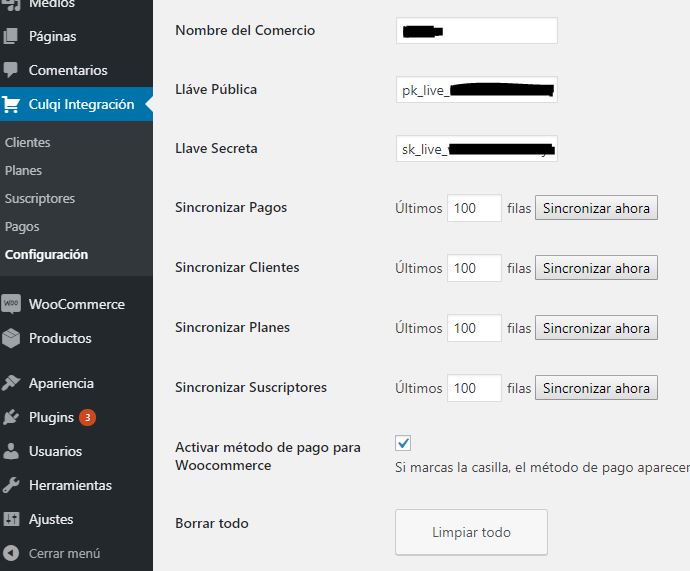 Crear/borrar planes
Planes  – visualizar, crear y borrar
Clientes – visualizar
Suscripciones – visualizar
Como ven el cuadro de arriba, a diferencia de los demás, los planes si podemos crear y hasta borrarlos; y por cada evento sincronizará con Culqi. Es decir si creo un plan en tu website, este también lo creará en Culqi y si lo borro, éste también lo borrará en Culqi.
Es el nombre del plan que se verá reflejado en la suscripción del usuario
Culqi sólo acepta SOLES y DOLARES
El monto cobrado en el periodo dado, recuerda que mínimo es S/ 3 o $US 3
Ciclo del Intervalo : si quieres cobrar mensual, deberías poner 1, si deseas semestral, deberías poner 6.
Intervalo es el periodo establecido, puede ser día, mes y año.
Limite de cobros es el número de veces que se hará la recurrencia. Si tu cobro es mensual y lo queres a 1 año, entonces deberías poner 12
Si necesitas días de prueba antes de hacer los cobros, podes establecerlo aquí.
Para borrar un plan deberás "borrarlo permanentemente" si queres que sincronice con Culqi.
Productos Recurrentes
Podrás agregar recurrencia a un producto simple o a uno variable haciendo click en la opción "Culqi Recurrentes".

Recuerda que hacer un producto recurrente, será como un producto virtual ya que no permitirá precio de envío durante la compra.
Pasarela de pago para Woocommerce
Si tenes activado la opción de "Activar método de pago para Woocommerce", podrás configurar la pasarela en Ajustes de Woocommerce > Pagos > Culqi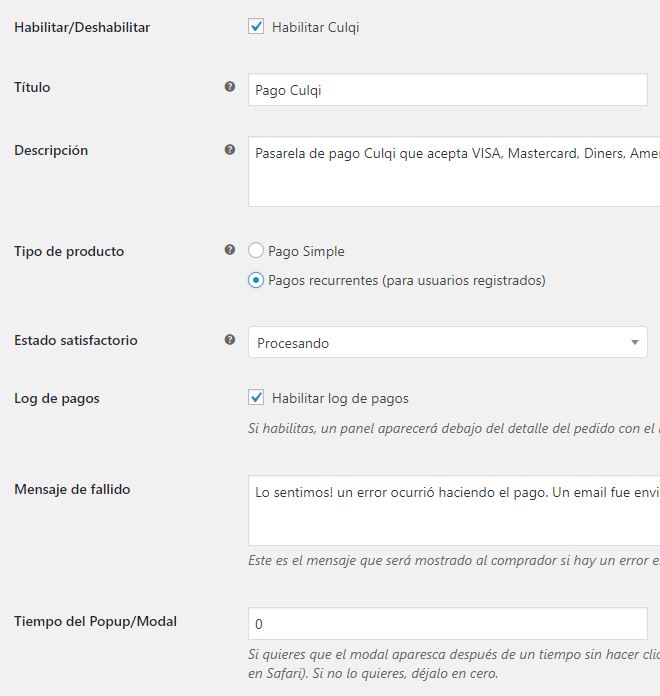 Problemas comunes desde el servicio de Culqi
El servicio de Culqi suele ser óptimo cuando se trata de registrar pagos simples pero, raras veces, cuando empiezas a interactuar con otros servicios puede traernos estos tipos de problemas, si sueles tener alguno, comunicate con ellos.
Ups

!

Algo

salió

mal

en

Culqi

.

Contáctate

con

soporte

@

culqi

.

com

para

obtener

mas

información – El servicio de Culqi, para el servicio solicitado, no está disponible en ese momento
Endpoint

request

timed

out  – El endpoint del API de Culqi a agotado su tiempo de solicitud
Para hacer una verificación del servicio de Culqi, te invito a seguir esta guía simple y sencilla. Sólo te tomará 10 minutos : https://blog.letsgodev.com/tips-es/verificar-servicio-de-culqi-en-10-minutos/